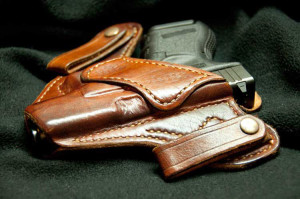 The Illinois Concealed Carry law is in full effect and people are carrying handguns on the streets. The concealed carry law is officially codified as "Firearm Concealed Carry Act" at 430 ILCS 66, et. seq. This post will be the first in a series covering the law of concealed carry here in Illinois. The series will cover the requirements to obtain a concealed carry permit, where you cannot carry, and some general tips on how to conduct yourself if you're going to carry a gun.
Illinois "Shall Issue" Concealed Carry Permits
The first thing to know is that Illinois is a "shall issue" state. This means that if you meet the requirements for a concealed carry permit, the Department of State Police (hereinafter "Department") does not have discretion to deny the permit for undefined reasons or personal agenda. On the other hand, "may issue" states have far more latitude in deciding who actually gets a permit and who doesn't. Generally, "may issue" states require some sort of justification from the applicant as to their need for a concealed carry permit.
Keep in mind, this does not mean that everyone who meets the criteria in Illinois will get a permit. Law enforcement agencies can still object to an applicant, "based upon a reasonable suspicion that the applicant is a danger to himself or herself or others, or a threat to public safety." 430 ILCS 66/15(a). This objection must be in writing and must be submitted within 30 days of the applicant's entry into the Department database.
If an objection is filed against an applicant, this will toll the 90 day period for the Department to issue or deny the permit. 430 ILCS 66/15(c). The objection is then handed off to the Concealed Carry Licensing Review Board to determine the applicant's eligibility. 430 ILCS 66/20, et. seq. The Board then has to issue a decision within 30 days unless it requests additional information, the applicant grants the Board more time, or the Board notifies the applicant that it needs an additional 30 days. 430 ILCS 66/20(f).
If there are no objections from a law enforcement agency, the application will proceed as normal.
Qualifications for a Concealed Carry Permit
So, what are the qualifications to get a concealed carry permit in Illinois?
You must be 21 years old and have a valid Firearm Owner's Identification (FOID) card. 430 ILCS 66/25(1) and 25(2). You also must maintain the eligibility requirements for the FOID card from the time of application throughout the period you have the concealed carry permit.
You must not have been convicted of a misdemeanor involving the threat of force within the 5 years preceding your application. 430 ILCS 66/25(3)(A). You also must not have been convicted of 2 or more offenses of driving under the influence within the 2 years preceding your application. 430 ILCS 66/25(3)(B). Also, you must not be subject to a warrant, prosecution, or any proceeding that would disqualify you from getting the concealed carry permit. 430 ILCS 66/25(4).
You must not have, "been in residential or court-ordered treatment for alcoholism, alcohol detoxification, or drug treatment within the 5 years immediately preceding the date of the license application". 430 ILCS 66/25(5).
Lastly, you must have completed the training and education components under section 75 of the concealed carry law. 430 ILCS 66/25(6).
Education and Training for a Concealed Carry Permit
Illinois has the highest training standards for concealed carry of all the states.
In Illinois, you'll have to complete 16 hours of classroom work which includes firearm education and training. 430 ILCS 66/75(b). The education part includes firearm safety, basic marksmanship, firearm maintenance and operation, applicable state and federal laws relating to firearms, and appropriate interaction with law enforcement. Id.
Furthermore, an applicant needs to qualify at the range, which counts towards the 16 hours as well. The qualification shoot consists of 30 rounds with a minimum of 70% accuracy. 430 ILCS 66/75(c) and 75(d). Ten rounds each will be fired from 5 yards, 7 yards, and 10 yards. 430 ILCS 66/75(c). The target will be a Department recognized B-27 standard silhouette. Id.
This is a general overview of what the training should contain and is not a listing of every topic or routine trained on. There is simply a lot to cover in that 16 hours.
We'll end things here for this first part of the discussion on the Illinois Concealed Carry law. In the next part I will discuss the areas where people can carry concealed weapons, what types of weapons can be carried, and the penalties for violations of the law.